Raising Eloise and Morgan
Topics:
introduction
prepregnancy
pregnancy
birth
breastfeeding
weaning
teething
routines
bathing
walking
activities
dad
Bathing
I'm sure that for all new parents the thought of giving a baby a bath for the first time is scary. I was shown how to bathe Ellie only half an hour before leaving the hospital.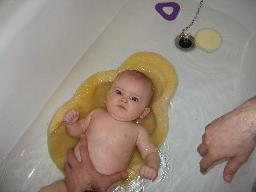 I didn't buy a baby bath as we did not have the storage space and I was told by people that they are not used for that long, so thought it would be money we could save. I did buy a foam baby support from Woolworths that was £6.00 and it worked fine. We would undress Ellie and wash her hair while she was wrapped in a towel and then take her nappy off and place her on the foam support. The first time was daunting but she was okay.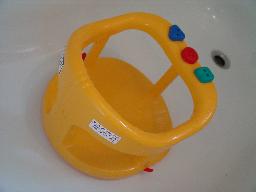 As she got older she started to splash a bit and when she was sitting up and was too big for the foam support I bought a bath seat (bath ring) from Argos for £6.99. This has suction pads underneath to secure it to the bath. She liked sitting in it and playing with her toys. It meant that I didn't have to hold her while she was in it.
For Morgan, rather than another foam support, we got a wire-and-towelling one (free on FreeCycle which we passed on when done with), which worked fine too. At 24 weeks (5 1/2 months) he graduated to the bath seat!
At around 12 months I sat her in the bath on a non-slip rubber mat without the seat and she enjoyed the freedom more to move around. She was a bit unsteady and first but she gained confidence and loved to splash with her legs.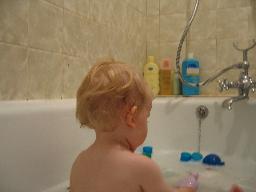 At 18 months and on she loves her nightly baths and likes to play. I haven't bought many toys, as she likes to play with the caps of bubble bath bottles, a small watering can and a funnel. She likes to wash her toy dolphin and penguin when she has her hair washed. She helps to tidy up at the end of the bath and pull the plug out. And she especially loves bubbles!
Watching her now in the bath is a joy knowing she has so much fun.
Jean
Dad's Note
We have quite a lot of fun around bath time; first Ellie wants to climb the stairs herself. Now she wants to run around upstairs and let off steam (which is OK since we put the safety gates up). And now at 17 months we are getting her familiar with her potty and as it's a little early there's been a couple of small accidents... Then after her bath and drying her, she 'escapes' from us before we can put her vest on!


All articles: introduction prepregnancy pregnancy birth breastfeeding weaning teething routines bathing walking activities dad
This site is not official advice: just one mum's experience!
Copyright (c) Jean Ryder 2006-2008.
See Eloise's home page, and the main Hart-Davis home page.