Raising Eloise and Morgan
Topics:
introduction
prepregnancy
pregnancy
birth
breastfeeding
weaning
teething
routines
bathing
walking
activities
dad
Introduction: My Baby Experience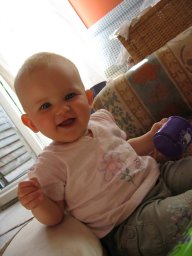 Over the following pages I have written up my experiences with my first baby Eloise (aka Ellie) and her younger brother Morgan, and the trials and tribulations of breastfeeding, weaning and teething. There are photos and videos.

This is work in progress. Eventually I will cover my experiences on the following:
Equipment,
Talking,
Socialising,
Hair and clothes,
and more as my children grow!

I hope you find these pages helpful and an insight to one mum's experience as everyone's will be different. This is simply an account of what I have been through and is not advice. And to get to show the beautiful pictures of Ellie and Morgan.

Happy parenting!

Jean
Links
All articles: introduction prepregnancy pregnancy birth breastfeeding weaning teething routines bathing walking activities dad
This site is not official advice: just one mum's experience!
Copyright (c) Jean Ryder 2006-2008.
See Eloise's home page, and the main Hart-Davis home page.