Raising Eloise and Morgan
Topics:
introduction
prepregnancy
pregnancy
birth
breastfeeding
weaning
teething
routines
bathing
walking
activities
dad
Routines
Routines and consistency are important to children, as it gives them a stable background against which they can try out all the puzzling and worrying things in life!
Bedtime
17.30 Dinner: I sit down and have a meal with Ellie, if her Dad is at home, he will too.
18.00 Play: We have a little bit of play before we tidy up and the read a story.
18.10 Put toys away: I make it a bit of game, but she just watches.
18.15 Read storybook: We read a couple of books before we say goodnight to her stuffed toys downstairs.
18.30: Go up stairs for bedtime: I wipe her eyes with cooled boiled water, then I undress her to her vest. If she were not having a bath I would wash her face, hands and feet. Take her vest off and then change her nappy. If she has a bath, I would take her nappy off and then take her vest off then put her in the bath. After she is bathed or washed, I will put her into a nappy, clean vest and bodysuit. I will brush her hair and teeth. We then go into her room, where she will have her final milk feed of the day and then to sleep.
11 months old daily routine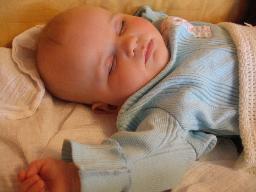 06.00-07.00 Ellie wakes up between 6am and 7am. I would normally bring her into our room for a morning cuddle.
07.30: She has her milk.
07.45: I get her dressed and change her nappy.
08.00: Breakfast time. I will eat my breakfast with her, she likes to have weetabix, porridge or toast to eat.
09.30-10.00: She normally will have her first sleep of the day. She will sleep around 30 minutes.
10.30: Snack time. She will have some fruit, oat biscuit or some dried fruit.
10.45: Playtime and reading time before lunch. I have to get some boring household work done too!
12.30: Lunchtime. I will eat my lunch with her. She may have leftovers from the previous nights dinner, cheese on toast or scrambled eggs.
14.00: Second sleep. We are normally out, so she will sleep in the pram.
15.00: Playtime, go on the swings or we will be out, so we may go to the library.
17.30: Dinnertime.
18.30: Bedtime routine (see above).
Jean
Links
All articles: introduction prepregnancy pregnancy birth breastfeeding weaning teething routines bathing walking activities dad
This site is not official advice: just one mum's experience!
Copyright (c) Jean Ryder 2006-2008.
See Eloise's home page, and the main Hart-Davis home page.